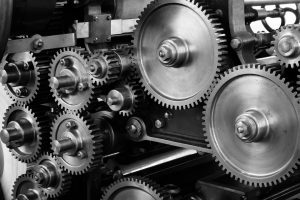 Frost & Sullivan complements its market-centric capabilities with its Manufacturing and Process Consulting (MPC) practice. MPC provides competitive advantage to companies through deployment of their projects in manufacturing and supply chains. The practice focuses on delivering solutions in the operations and supply chain space that are of key interest to top management and results in increased efficiency, reliability and responsiveness.
Overview
Manufacturing & Process Consulting provides services designed to assist clients in implementing their change initiatives. It is the unique approach, pace, and direction employed by the MPC team during the entire process that sets us apart.
The process has a strong focus on:
Delivering competitive advantage
Continuous and objective monitoring of progress towards Lean Excellence
Deployment of manufacturing best practices into the organization
Developing maturity in a continuum with ability to achieve national and international levels of recognition
Sustained improvements through empowerment, and active involvement of personnel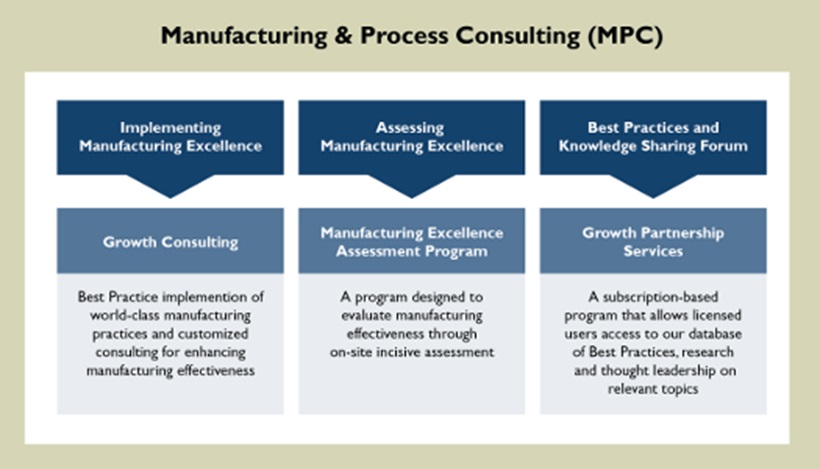 Growth Environment
Frost & Sullivan's global team of industry analyst experts identify challenges and opportunities within the growth environment across 10 different industries. We segment the challenges into an internal and external perspective and then indicate solutions or opportunities for growth.
The MPC Team has identified the following internal and external challenges as the most common being faced by manufacturing companies today.
Internal Challenges
Pressure to Increase Market Share:Higher markets share results in higher sustained volumes and higher quotient of customer loyalty
Change Management:A structured, well-defined, planned organizational process ensures employees accept and embrace changes so that desired results are achieved in a sustained manner
Employee Retention/Motivation:Loss of experienced employees damages the organization. Working with employees to motivate them to take on self-improvement results in organizational alignment and employee satisfaction
Supply Chain Reliability:Ensuring backward and forward supply chain integration prevents disruption in plant routines. Lack of reliability impacts profitability, time to react to customer needs, and market share
Linking manufacturing strategy to business strategy: Manufacturing strategy must be in tandem with the overall business goal to ensure industry leadership/positions are maintained
External Challenges
Ever Increasing Customer Expectations:Customer awareness of global and local environmental issues is at an all time high. Inability to satisfy customers will result in loss of market share
Poor Infrastructure:Lack of or poor infrastructure (ports, rail heads, roads, utilities, etc.) add to an organization's costs resulting in higher costs to access markets
Cascading Effect of Indirect Taxes: Not all costs (raw materials, energy, transportation, government levies) can be passed onto the customer. Doing so can result in customer refusal to purchase. Companies must understand which costs must be absorbed.
Discuss your challenges with a MPC Expert



Our Solution
MPC's Manufacturing Excellence Assessment

Frost & Sullivan's Global Manufacturing Excellence Model objectively assesses a facility on 12 factors that define its being called flexible and lean. These capture excellence on cost, quality, delivery and innovation.
The sub-scores are computed based on the facility's success on 255 "Points of Achievement" (POA). The assessment is designed to identify answers to the following questions:
Where does the facility stand on the global manufacturing scale?
How does it fare vis-à-vis other companies in its sector?
Is the operations and supply chain efficient to meet customer requirements?
Is the organization aligned to a culture of continuous improvement?
What improvement projects needs to be deployed to improve its performance vis-à-vis competition?
Deployment Workshops
Deployment workshops (on-request), are conducted post Manufacturing Excellence Assessments. Projects are identified, aligned and prioritized based on the parameters that would give competitive advantage to the organization.
The projects are deployed into teams through a day long workshop. Achievable and time bound targets are set across all the parameters. Best practices relevant to the industry sector are also shared. The progress is monitored at regular intervals to ensure that the direction and pace is as per the overall plan.
Manufacturing Summit
Frost & Sullivan's Manufacturing Summit provides an ideal platform for knowledge exchange and business networking in addition to presentations on aspects most relevant to the manufacturing fraternity. The summit also hosts panel discussions on topics of importance and concern to manufacturing companies.
Topics discussed cover issues that challenge and constrain achieving higher degrees of manufacturing excellence. Industry experts share insights on factors that contribute towards the successful deployment of these proven practices. The forum is designed to assist companies overcome their implementation constraints and thereby improve processes.
Growth Partnership Services (GPS)
Growth Partnership Services for manufacturing clients provides in-depth insights and analysis on manufacturing-related topics that empower organizations in their journey towards manufacturing excellence.
These services combine consultant opinions based on Frost & Sullivan's global perspective and presence, with in-depth observations and the collective experience of over 300 major companies across South Asia, Southeast Asia, and the Middle East, across all verticals.
GPS for manufacturing clients is designed to provide companies with best practices employed by companies across different sectors and various functions.
Discuss your challenges with a MPC Expert
Methodology/Process
Frost & Sullivan's methodology/process consists of three phases (shown below):
Foundation Phase
Consolidation Phase
Excellence Phase
This is a proven program that focuses on aligning business goals with that of manufacturing and in turn deploys best practices in the supply chain thereby ensuring manufacturing excellence.
Additional thought leadership, interaction with experts, workshops, forums, and a community of experts and world-class practitioners, are also available to augment the three phase process.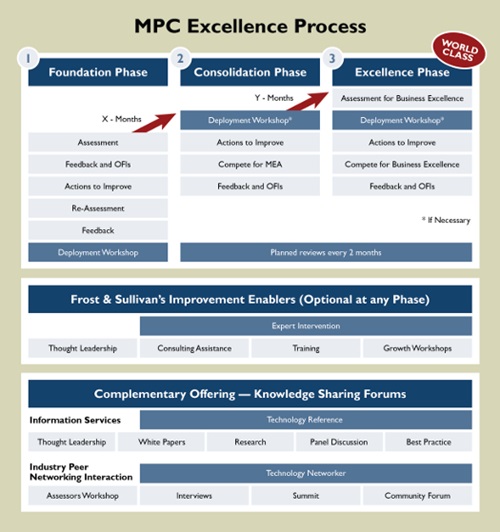 Case Study 1
If you have any questions after reviewing the case study below, please click the link to contact the MPC Team for further discussion.
Discuss The Case Studies With The MPC Team
One of the world's largest manufacturing firms was looking at establishing its manufacturing base in India. Beginning with 100% assembly operations, it wanted assistance in setting up operations, including gradual localization.
Our MPC experts evaluated the strategic focus of the manufacturing/supply chain to determine what would be required to undertake this initiative. Cost and lead times with a focus on the customer were agreed upon. The MPC team worked closely with the company through its evolutionary phases of 100 percent assembly to SKD to localization of vendors. SOPs were standardized and interventions at vendors carried out to communicate and implement effective systems to ensure CTQs.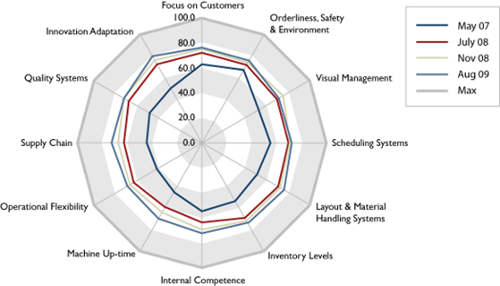 Case Study 2
If you have any questions after reviewing the case study below, please click the link to contact the MPC Team for further discussion.
Discuss The Case Studies With The MPC Team
A multi-product integrated chemicals company needed to improve its manufacturing processes due to pressure from competition and the increased demand of customer requirements.
Each of their 20 plants and businesses were analyzed and goals to achieve manufacturing excellence were established. Accordingly while 5S was used as a foundation along with VSM, in order to identify opportunities, asset care was implemented in a few of the plants on a pilot basis. The resulting improvement and cultural change acceptance that resulted has been well appreciated and the plant is on its way towards excellence.