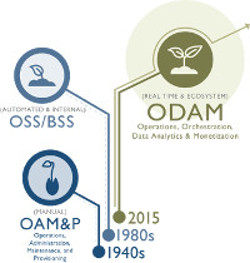 More than a half-century ago, CSP network and business management processes were manual (OAM&P). As CSPs have evolved over the years, so have the operations support systems (OSS) and business support systems (BSS) that address CSP business and network management needs. In recent years, the lines between OSS and BSS have become less clear, with much overlap. In addition, the roles in which OSS and BSS operate have expanded beyond traditional boundaries. As such, Stratecast now uses the term Operations, Orchestration, Data Analytics & Monetization (ODAM) to encompass both the traditional OSS and BSS functions and the new areas in which business and operations management must now work together, including virtualized networking and telecom data analysis.
Stratecast | Frost & Sullivan: ODAM Mission Statement
ODAM Research
Analytics Research
Growth Consulting
Growth Workshops
ODAM Research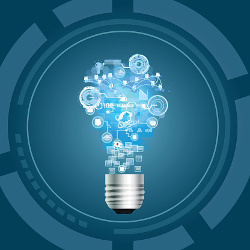 Frost & Sullivan was founded on the simple premise that research should enable decision-makers to use marketing information in more innovative and meaningful ways. With this objective in mind, the company developed a comprehensive range of research services and state-of-the-art analytical tools. Frost & Sullivan has continued to grow, adapt, and innovate to meet the challenges and opportunities of today's ever-changing business world.
Analytics Research
Growth Consulting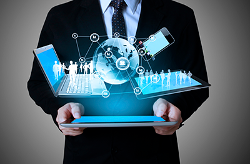 With our Growth Consulting services, we support critical business decisions by leveraging objective, third-party market research and strategic analysis. We deliver a crisp, clear, and targeted message tailored to your defined audience, educating your customer base and accelerating your sales cycle with objective third-party validation.
Any questions? Please email us and we'll respond within 48 hours psomers@frost.com | P: 360.416.4982 | F: 775.310.7419
Growth Workshops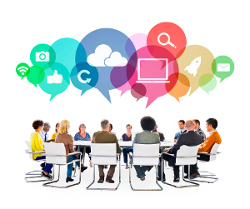 Frost & Sullivan can deliver a bespoke workshop to your organisation to highlight the emerging Connected Consumer trends, and identify the impact to your organization. This is flexible around your needs, where we can attend your strategy day or workshop as an external expert keynote speaker, through to full facilitation of a workshop to ensure your delegates are fully engaged with opportunities and their relevance to their department. Full written follow-up insights and actionable strategies are provided thereafter. We have delivered such workshops for leading providers across the value chain (list available on request).
"Getting an overview how other businesses structured their services. Which tools should work best for my service teams and how to get to a better customer engagement."
"GIL offered real ideas and experiences to the core words of innovation and leadership. GIL was also able to deliver a return on the investment of time far above any other event you will attend in your career."
"A combination of highly relevant topics geared for business executives in leadership positions."

Billing and Revenue Management

Provisioning

Network Management
Technology Firm Seeking To Partner with Service Providers In Offering Managed Services
Challenge
One of the world's largest technology firms wanted to play a more significant role in providing managed solutions to enterprise (Fortune 1000) customers, in partnership with service providers. The goal was to work with Stratecast Partners to determine how to leverage service providers as partners in providing managed solutions to enterprises.
Consulting Approach
The Stratecast analyst team, comprised of analysts specializing in service provider business models and alliances/partnerships, worked with the client to help it identify the short list of service providers worth considering as partners on the managed services front. Stratecast analysts also worked with the client to identify the optimal type of model to follow in developing and managing such a partnership.
The Stratecast analyst team worked with the client to identify what types of managed solutions to focus on, including both communications services and applications components. Stratecast analysts based these recommendations on knowledge of the evolving networking/IT requirements of enterprises, along with knowledge of the service providers' key areas of focus.
Impact
The client selected the top three service providers with which to work on developing, marketing, and delivering managed solutions to enterprise customers. The client has now successfully forged relationships with these service providers and is working with them to jointly develop and market solutions targeting enterprise customers around the world.
OSS/BSS Solution Provider Targeting Global Service Providers
Challenge
Despite success in providing solutions to other industry verticals, a multi-billion dollar technology firm had achieved limited success with communications service providers (CSPs). Stratecast Partners was tasked with helping the client develop a more detailed view of the CSP market. The goal was to better position the company to map its solution capabilities to the key business and technology requirements of the CSPs it was targeting.
Consulting Approach
The Stratecast analyst team, comprised of analysts specializing in service provider business models and OSS/BSS systems and processes, worked with the client to help it accurately predict (1) which CSPs would emerge as leading players, and (2) what their top priorities would be with regard to network/service evolution and operations support systems/business support systems (OSS/BSS). The analyst team then helped the client define the key components it would need to include in its solution for CSPs.
The Stratecast analyst team worked with the client to craft messaging that conveyed the merits of the company's solution for CSPs. Stratecast helped the client identify the key aspects of the solution to highlight, and helped the client define which aspects of the CSP's business would be positively impacted.
Impact
The client began conveying this message and value proposition to CSPs around the world, and has established itself as a leading player in helping service providers optimize their networks, systems, and processes.
Let us help you grow your revenues through a better understanding of the operations and monetization space.